The 80's Boom Box built for 2018
The GPO Brooklyn, our first 80s inspired Boom Box, sold out before Christmas and now it's back. A fully portable music system, the Brooklyn takes the 80s boombox and plugs it into the 21st century. Cassette sales role 35% in 2017. Time for a cassette revival?
"Great looking blaster with loads of connectivity options" - Boomboxery
"Looks like it's from the '80's but totally up to date with Bluetooth" - Customer review
"It's caught our eye" - Retro to go
"More than just a cassette player" - T3
One that's really caught our eye is from Boomboxery.com, a forum for people who love Boomboxes. We'll be honest, we were a little nervous when they asked to review the Brooklyn. We've put a lot of love and care into this unit and this crowd knows their stuff. They're collectors and experts on 80s ghetto blasters.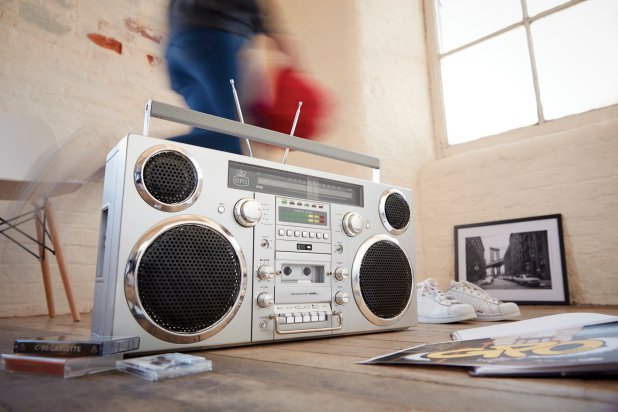 Retro Boombox
We're delighted with their review. It "looks cool" with a "really nice look" and "sounds even across all formats". The tape "plays very well with stable and consistent playback".
Watch their review for yourself.
You'll be able to get your hands on the GPO Brooklyn at the Spring Fair, from 4-9 February. It arrives back in stock from 18th February.
Ghetto Blaster Boombox
Tech Specifications:
The Brooklyn is a retro boombox heavy on 80s style but plugged in 21st century tech. It plays cassettes but also has a USB port for playback and recording, CD deck, DAB and FM radio. It's Bluetooth enabled so can stream music from any compatible device. Two 40 watt speakers give the Brooklyn plenty of power, with controls for volume, balance, bass and treble. It's also fully portable - as a boombox should be - with a lithium battery that takes just one and a half hours to charge and 3-4 hours playback. It's big, measuring 60cm by 30cm, with a chrome finish and retro backlight with VU indicators.
Fully Portable
Bluetooth connectivity for use with smart phones & tablets
2 x 40 watt speakers
Rechargeable Lithium Battery
Power supply compartment
Multimedia connection through RCA input and 3.5mm Aux in
Top Loading CD function for Playback & Recording
Cassette Player with Recording function and digital tape counter
DAB and DAB+ FM Radio with Info button
USB and Cassette Playback / Recording
Volume, Balance, Bass and Treble Controls
80's retro style back light & analogue VU indicators
Twin aerials
Headphone & Microphone port
Compatible with all external speakers
Charge Time: 1.5 hours
Playback Time: Up to 4 hours
Weight: 10kg unit only
Dimensions: W 60 x D 14 x H 30cm
Silver/Chrome finish with metal speaker grilles